On Wednesday afternoon, STEM club, along with our STEM ambassadors, were kindly invited to the home of the Engineering school at the University of Wolverhampton to have a tour of the facilities and take part in some activities.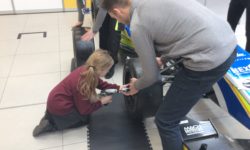 The children attempted to perform a tyre change on an F1 car. They were allowed to have a practice go before being timed by one of the engineers. Paris came out top with the fastest time of 7.23 seconds and was presented with a prize of a model car. The engineers commented how the times set by the children were as good as, if not better, than the actual engineers at the school.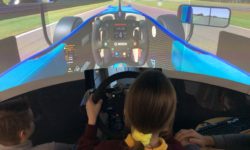 Children were then invited to have a go at the F3 race car simulator where they had to set the fastest lap. Well done to Faythe for setting the fastest time.
Paul then took us on a tour of the factory and showed the children a lot of machinery to explain how parts of the cars were manufactured. Paul discussed the range of materials used and why they are used. He showed how the ideas start as a design (CAD) before being manufactured (CAM).
The children left completely enthused by the whole experience and we thank Paul and his team for the afternoon.