Would all the children who attend Mrs Atkins groups, whilst they are at home, please help to create a new display for when we are back at school?
Could you please draw and cut out of cardboard a butterfly and paint or colour it in any way that you choose?
When we are back at school bring them in so they can be attached to a mobile that will be displayed outside the TLC.
You can make as many as you want – and they can be as big or small as you want!
Here are some my children and I have created. We used lollipop sticks down the middle of our wings but cardboard or a stick will work just as well.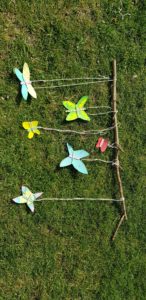 You could even make your own for home. To make the mobile simply sellotape some string to the back of your butterfly (you may need to wrap it around the middle a few times and make a triangle shape on the back so they stay upright) and hang it onto a large stick.
Have fun and stay safe,
Mrs Atkins