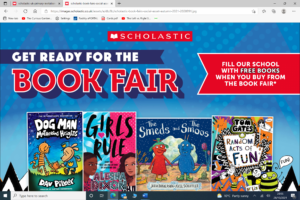 We are holding a Scholastic Book Fair from
Thursday 11th-November until Wednesday 17th November, 3:00pm-4:00pm.
Check out the amazing books you can purchase here . . .
scholastic-uk-primary-invitation-autumn-2021-2028899.pdf
There is also lots of stationery to buy!
These may be an ideal gift, especially with Christmas just around the corner.
The children are visiting the Book Fair during the day and will bring back lots of information about books that they are interested in.
You can pay on the day you visit the fair by cash or card, using your phone. Or you can pre-order any of the books on the invitation above by clicking this link and selecting 'I am unable to attend the Book Fair.'
Parent payments – Scholastic Book Fairs
Please queue up at the main door on the playground. We are asking all adults to wear a mask.
We can't wait to see you there!