English
Listen to the story of Jim and the Beanstalk again. Talk about the similarities and differences between this story and the traditional tale of Jack and the Beanstalk. Compare the characters , where the story is set and some of the plot. What happens that is similar? Which part is different?
You could draw and write some of them in a table like this.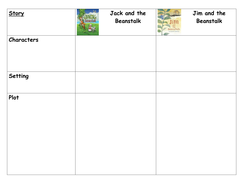 Maths
Here's a game to play with an adult! This is a basic form of the ancient game of Nim.
How do you play?
You'll need an adult to play with.
You will also need seven objects, such as counters, blocks, toys, pasta, stones.
Place the 7 counters in a pile and starting with the adult, take turns to take away either one or two counters.
The person who takes the last counter wins.
Swap who goes first, and keep playing until you work out a winning strategy.
Does it matter who has the first turn?
What happens when there are three counters left?
How can you win at this game?
What happens when you start the game with more counters?
Link this to subtraction – 7-1=6 then I took away 2. 6-2=4 and so on . . .
Start with a different amount of counters in the middle. Record what happens in a number sentence and by crossing out images.
Be active  
Try some mindfulness meditation.
We know that this is a really tough and stressful time. We hope that this activity might make you feel calm and positive. It focusses on breathing.
https://www.youtube.com/watch?v=Bk_qU7l-fcU
Project
If you haven't seen the story time that was posted on the school website last week about Odd Dog Out maybe you could watch it now – or watch the BBC Bedtime stories version (which is really good!).
The author and illustrator Rob Biddulph has been posting drawing tutorials– why not have a go at drawing your own Odd Dog Out – dress it in whatever you want. We'd love you to email them to us too!
https://www.youtube.com/watch?v=pPeyVoZyBzY&feature=youtu.be
We will not be posting any formal learning for Friday due to it being our VE day celebrations.
We would love you to decorate your homes in red, white and blue and have a picnic! Please email pictures of you and your family celebrating to us. We can't wait to see them!
If you are looking for some homemade inspiration take a look at these . . .
I have baked scones in preparation; this recipe was really easy to use!
https://www.bbc.co.uk/food/recipes/tea_time_scones_77839