ENGLISH – Yes you guessed it…we are going to continue with Jack's story today. Up the beanstalk we go….
Watch and read the next 2 Chapters 7 and 8. Encourage your child to recall what has happened to Jack so far…
https://www.bbc.co.uk/teach/class-clips-video/english-ks1-jack-and-the-beanstalk-pt7/z6mykmn
Draw the biggest, scariest castle that you can imagine…
Here's some pictures to help.
Write sentences or label your castle with phrases describing what it looks like.
MATHS – Non-standard measurement. Using the balance scales made on Monday can you measure and record the weight of a set of objects?
You will need a set of objects for example a fork, TV remote, apple, rubber, cup.
You will need something to measure them against – like buttons or pasta.
How many pieces of pasta does the apple weigh? How will you know? You will know when the two buckets on the balance scale balance – they are in line/ parallel with each other.
Make statements – The apple weighs 32 pasta pieces.
BE ACTIVE – Watch this ballet. Discuss and describe this type of dance. Do they move at the same time? Do they move in the same way?
https://www.youtube.com/watch?v=bntjn7XQH70
Can children copy some of the moves? Can they describe what the ballet dancer is doing with parts of their body?
Play the music again and allow your child to free-style in a ballet style!
PROJECT – Look at this artwork.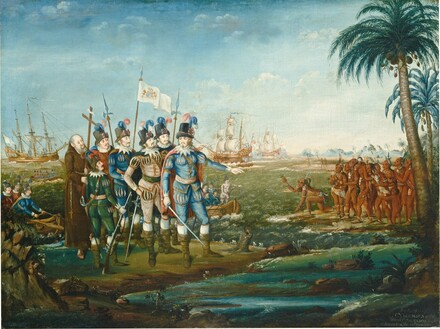 What does your child notice? What is happening in the background? Foreground? Who do you think the people are? What are they wearing? When is this artwork set? What did the artist want you to think about? What do you feel when you look at the picture?
Could you recreate your own piece of artwork based on Christopher Columbus? You could use whatever media you have – paint, pencils, natural materials from the garden, junk modelling materials.